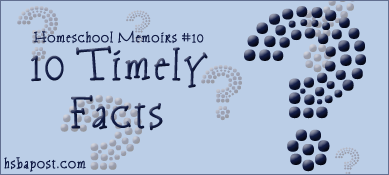 This weeks assignment from Homeschool Memoirs:
Write 10 interesting, crazy, weird, fun facts about you! Include facts about you as a woman, a wife, a mommy, a homeschooler, a homekeeper, a taxi-driver, a cook, etc . I only put 10 facts because I didn't want to overwhelm you, but you're welcome to do more!
Ten Random Facts About Yours Truly:

1. I got married on my lunch break and have been living my happily ever after ever since.

2. CHRISTmas is my favorite time of year. I begin shopping for the kids gifts over the summer and I LOVE black Friday! We have many traditions we follow each year and already I CAN'T WAIT FOR CHRISTmas TO BE HERE!

3. In my former life (pre-kids) I was a banker. I still find myself working numbers in my head often.

4. I love taking pictures of my kids and dogs. I would love to be a pet photographer in my "spare" time.

5. I like drinking hot tea on cold nights from my beautiful tea cups my husband bought me for my birthday a couple of years ago.

6. People often say I'm a "dog whisperer" as I can approach and train most any dog.

7. My first laptop was purchased with the intention of using it to write a book. The laptop was well used, but the book was never written.

8. I love playing Monopoly and we have several versions of the game including Star Wars, Disney, and even a Dog edition.

9. I fail at being a domestic diva. It has always been a dream, but my house seems to have a personality all its own and never stays "uncluttered" for long.

10. I love everything DISNEY. It was a dream come true when at long last my husband took my children and me to Walt Disney World to celebrate our tenth wedding anniversary. We're already planning our next trip back!