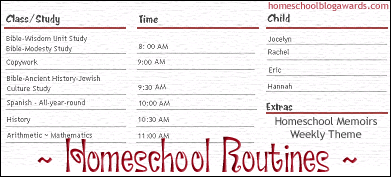 Well, it definitely took time for me to get out of my box thinking that we had to have it all done by a certain time each day. Over the past couple of years I realized I was setting myself up for disappointment and with disappointment came stress for our entire household. So now
instead
of following a schedule, we
try
to follow a routine.
The kids day looks something like this:
Kids Day




Get up, change clothes, make bed, feed dogs




Breakfast, brush teeth




Devotion time




School




Lunch




Finish any school




Chores




Practice guitar




Play time




Supper time




Bath time




Clean up bedrooms




Devotion time




Bedtime - must be in bed no later than 9:00 P.M.
I always stress to my children that any job whether it is school work or chores that is only half done has not really been done at all. I also tell them quite often that if they day dream or waste time while they are suppose to be doing school work or chores, that is time that cuts into their play time. Rather than follow a clock, we do the job until it's finished to the best of our abilities. If we finish ahead of time, then we have the rest of the day to do what we want.
Life happens. Already this school year things have not gone according to plan. I have been sick for a couple of weeks. That definitely messes with our schedule. (Thank God we can still homeschool while mommy is in her jammies.) And there has been a certain hurricane that has cut into our school time this week. Rather than make my children and myself miserable over what hasn't been done, we'll just start back fresh next week (unless of course Ike heads for us too).
Many are the plans in a man's heart, but it is the LORD's purpose that prevails.
Proverbs 19:21