I've never participated in "themed"blogs before, but this seems like a pretty good way to get to know other homeschool moms. Here goes nothing!
The Rules:
The first theme begins today, August 20th, 2008. This week, we want to hear about YOU. The author behind the words. The Momma behind all the homeschooling kiddos. Just write up something about you, your family, and your home. How long you've been homeschooling and why you decided to homeschool. It doesn't have to be anything lengthy at all, but we'd love to hear it! You might include a family photo too!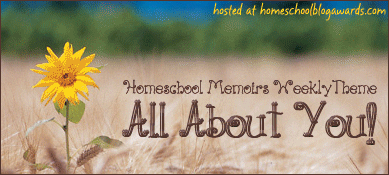 Tommy and I were married almost eleven years ago. Since then we have been blessed with four, amazing, wonderful gifts from God. Our only daughter, Dacey, is almost ten; Jaden is seven; Isaac is five; and Connor will turn two in two weeks.

My "first face" of homeschooling came when I was still a child. There was a family in a neighboring town who homeschooled. They were so close, so tightly bonded together, and always happy. Even as a child, I knew that I wanted for myself one day what they had then.

However, as my daughter approached her fifth birthday, I felt unequal to the task of homeschooling, and we enrolled her in a nearby public school for Pre-K. I knew that God had been calling us to homeschool, but every time it came to mind, I reminded Him of my many inadequacies. "Lord, I'm not disciplined enough or organized enough." And the list went on.

About a month into our school endeavor, Dacey's teacher called a meeting to inform me that Dacey was too hyper and would need to be "put on a pill." Knowing that my child had an excitable spirit was not news to me, but the idea that she needed to be medicated at five years old was mind boggling. A couple of more incidents followed before I finally said, "Yes, Lord, you have my attention now." So right before Christmas in 2003, we withdrew our daughter from school and started homeschooling.

It has not always been an easy road. Dacey does have a short attention span and has to repeatedly be brought back to the task at hand. Jaden started out speech delayed which made it difficult for him to hear and learn his phonics. (Praise God that Jaden is now reading on grade level! And what joy that brings to me knowing where he started!!) Isaac is just now starting Kindergarten, and thus far is doing well. This year the most challenging aspect has been for me learning to divide my time between three school children while attempting to occupy Connor. Connor is most certainly our little "wild man" and makes for an interesting morning trying to corral him as his siblings do school.

However, the benefits always seem to exceed the challenges. Our children love God with all of their hearts and seek to follow His will in their lives. They are close to one another. (Though don't get me wrong. They can throw down and fight with the best of them!) They love and respect their father and me. They have learned to be comfortable around people from every walk of life. And they have learned and enjoy ministering to others in our community.

There are two scriptures God has given me that I stand on in our homeschool journey:

Let us not become weary in doing good, for at the proper time we will reap a harvest if we do not give up. Galatians 6:9

But he said to me, "My grace is sufficient for you, for my power is made perfect in weakness." Therefore I will boast all the more gladly about my weaknesses, so that Christ's power may rest on me. 2nd Corinthians 12:9

I do truly know that with God all things are possible, and I continue to be excited about where He is leading my family.